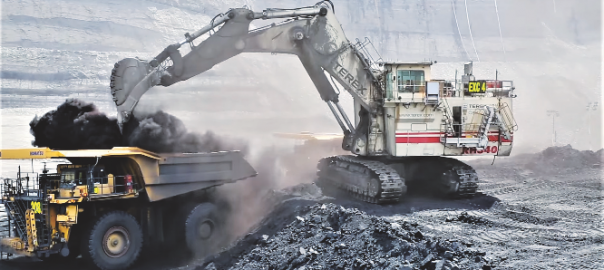 Airborne contaminants can be inhaled as particles suspended in the air. Many dusts associated with mining and construction contain substances that have little health effect when reasonably well controlled. Other dust particles can contain hazardous materials and can have life changing effects.
One of the most common dusts encountered on mine sites is crystalline silica, which is a mineral found in many natural and construction materials. The particles are so small that they stay airborne long after larger particles have settled to the ground and are easily inhaled deep into the lungs.
Several varieties of asbestiform minerals may be encountered during exploration activities for iron ore, base metals, gold and subsequent mining. High-energy processes such as cutting, sawing, grinding, drilling, polishing, scabbling and crushing can create unacceptable dust exposures if not controlled.
Some metals that are mined or present as processing reagents are potentially toxic if inhaled or ingested, such as lead, arsenic and mercury. Hazardous gases and mists such as sulphur dioxide, hydrogen sulphide, hydrogen cyanide and ammonia can also be generated in process plants and refineries. Fibrous minerals such as crocidolite, chrysotile and grunerite can be encountered during exploration and mining.
Diesel engines can emit exhaust gases. The potential short- and long-term health effects from exposure to diesel emissions are well documented.
Legionella pneumophila is a bacterial organism found in cooling towers, air conditioners and other water systems. In rare cases, the inhalation of contaminated aerosols may cause Legionnaires' disease, which is a form of pneumonia and can be fatal.
Welding and cutting operations are common on mine sites and generate metal and other fumes.
Abrasive blasting used in mining and manufacturing to clean equipment can generate considerable dust. Open-air abrasive blasting should be done away from working areas with appropriate dust control measures.
Exposure standards
Atmospheric contaminants levels in the mines, construction and workplace must be maintained below the exposure standards. Where no specific exposure standard has been assigned and the substance is both of inherently low toxicity and free from toxic impurities, exposure to dusts should be maintained below 10 mg/m3, measured as inhalable dust (8 hour time weight average – TWA).
How to manage airborne contaminants
Control measures include:
Wet downs areas that generate dust
Wear suitable personal protective equipment (PPE) with a clean air supply
Fit drills with a water injection or dust extraction system or both
Use dust extraction systems and position the dust discharge ducting to not blow back on the operators or others working in the vicinity
Control dust at the source by using a dust suppression system
Operating equipment with a well-sealed air-conditioned cabin
Fit equipment cabins with suitable filtration systems to maintain positive air pressure and clean airflow
Regularly replace filters in filtration devices and systems to prevent dust build-up
Prevent dust ingress and test regularly with smoke candles or air detection systems
For the best advice in air conditioning and filtration with over 35 years' experience in servicing industries throughout Australia and the world, there is no one you can trust like Lyons.
Call us now on (08) 9259 7777 or email enquiries@lyons.com.au and speak to one of our experts to make sure you keep safe all year round.
https://www.lyonsaircon.com.au/wp-content/uploads/2019/06/Mining-Dust-2.png
270
604
Emmanuel
http://www.lyonsaircon.com.au/wp-content/uploads/2017/06/Lyons-Logo-Dark-300x111.png
Emmanuel
2019-06-04 13:46:59
2020-04-24 08:55:45
Are you at Risk from Airborne Contaminants?