Air-conditioning in some industries is not just a luxury, it is a necessity. Some remote regions of Australia temperatures can be in the 40's for consecutive days. Working in the control cabin surrounded by glass can bring the ambient temperature to 50 degrees Celsius or more.
Some companies in industries like mining and construction have an air-conditioning (AC) specification that sets the minimum standard or system required for each heavy vehicle in the region. Once the unit or system is correctly installed, it is the diagnosing and maintenance that impacts the performance and frequency of break down.
Technicians can prevent this by regularly checking and maintaining:
• Electrical Issues – Inspect for worn wiring and loose connections
• Worn Parts – Check pulleys, valves, belts
• Dirty Coils – Clean coil to avoid increased load on fan motor and compressor
• Faulty or irregular controls – check controls and settings
• Low refrigerant charge – ensure refrigerant levels are set to correct level
• Dirty fan blades – grime and dirt affect fan speed that can put strain on motor
• Air flow problems – Check ducting and condition of filter
• Clogged or damages pipes – check fittings, hose condition and hose run positions and lengths
Here are 5 smart strategies to stay cool for mining and construction:
1. Rotatable program – Replace AC systems, condensers or evaporator boxes for reconditioned units. This ensures reliability at a fraction of the cost and reduces machine downtime, eradicates reliance on specialised external labour and increases machine availability. This is a favoured option in the mining industry.

 Rotatable Program for Air-Conditioning
2. Site Audit – External review of site practices, AC systems suitable for purpose and maintenance procedures. Great way to ensure current and future on site AC arrangement and maintenance practices provide best outcome.
3. Standardise Systems – standardising air-con components, hoses, install locations, filtration etc… across the fleet means less guess work and greatly improved maintenance and 

reliability
4. Cabin Filtration – Extend the life of your evaporators and maintain a clean fresh cabin environment by installing and regularly maintaining a pressurised filtration system. Small investment compared to the return or cost of continued AC failure.
5. Maintenance parts matrix – Air-conditioning specialist technicians should have a spare parts maintenance matrix for specific heavy vehicles that recommends replacement and change out of components when servicing air conditioning systems. This ensures you replace what is needed and extend service life of the cooling system.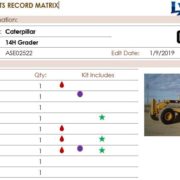 Lyons are the leaders in automotive air-conditioning and filtration for heavy vehicles. They have developed strategies and systems that set them apart from anyone in Australia. Providing exclusive services and innovation that keeps the mining, construction and transport industries competitive in the world market.
For service, parts and the best advice in air conditioning and filtration with over 35 years' experience there is no better choice than Lyons.
Call us now on (08) 9259 7777 or email enquiries@lyons.com.au and speak to one of our friendly experts to make sure you don't pay twice to get what you need this summer.