25 YEARS CREATING INNOVATIVE SOLUTIONS TO MINING, TRANSPORT AND CONSTRUCTION INDUSTRY AIR CONDITIONING AND AUTO ELECTRICAL PROBLEMS
Wedderburn Transport Case Study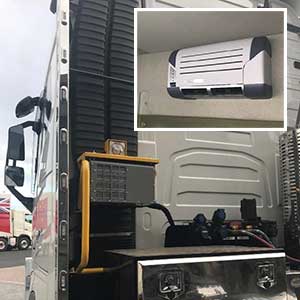 The Customer:
Wedderburn Transport / Truck Centre WA
The Challenge:
Wedderburn Transport were purchasing a new Volvo for their respected driver and required sleeper cabin air conditioning to be provided and installed.
The Solution:
Lyons have been installing Piccolo Splitter Bunk Air conditioners to trucks since 2004 and were approached by Wedderburn Transport to install one to a new Volvo FH16 Globetrotter. The Piccolo Splitter is a multi-voltage airconditioner that can be run off 12 or 24DC as well as 240v AC from a generator. The Piccolo PS3000 provides 3000 BTU / 950 watts of cooling capacity, and with amp draw of only 15A @ 24v the battery life can be increased.
The Result:
Mark Talbot from Wedderburn Transport was impressed with the workmanship carried out on this installation and has since recommend Lyons onto other member of the Livestock Rural Transport Association.
Complete the form below. We'll be back to you soon
Drop in to our shop. We take all major credit cards