A WIDE RANGE OF PORTABLE FRIDGES & PARTS & ACCESSORIES FOR TRUCKS & 4 X 4s
Waeco Chest fridges Waeco CFX-65DZ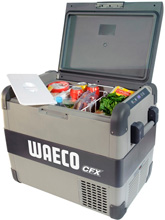 Description:
Fridge and freezer (fridge and freezer compartments + dairy section) 61 litres total (19 litre freezer, 42 litre fridge).
WAECO ACV20DC compressor with integrated control electronics, low voltage protection adjustable for leisure and starter battery via electronic system, electronic fuse/automatic reverse pole protection, dynamically ventilated wire tube condenser, aluminium rollbond evaporator Cabinet & lid: Polypropylene, Handle ends: Glass filled nylon, Handle rod: powder coated steel, Hinges: Die cast stainless steel, All screws are stainless steel Body: pale grey/dark grey; lid: dark grey 23.2 kg W661 x H561 x D455mm (W725 incl. handles) Detachable lid, interior light. CFX VMSO2 electronics with soft start and turbo cooler, USB port, 4 point M6 nutserts in base. DC and AC connection cables, two removable wire baskets, fridge/freezer divider, freezer lid, spring-loaded carrying handles.
3 year full warranty + additional 2 year (parts only) on compressor.
Specification:
12/24 volts DC and 100 — 240 volts AC Approx. 50 watts (@230 V AC, -15°C interior, 32 °C ambient) 5 V / 500 mA rating
Average current draw x running time. Average 1.9 Ah/h (@12 V, -15°C interior, 32 °C ambient temperature) +10 °C to -22 °C (Although capable of -22 °C due to energy efficient design, minimum setting of -18 °C recommended for normal usage) .
CFC-free PU foam, substantial thickness on lid, bottom & sides Fully hermetic
Code:
CFX-65DZ

Complete the form below. We'll be back to you soon
Drop in to our shop. We take all major credit cards