A WIDE RANGE OF PORTABLE FRIDGES & PARTS & ACCESSORIES FOR TRUCKS & 4 X 4s
Waeco CFX 65 – Chest Fridges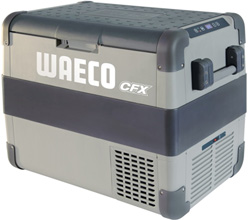 Description:
CFX-65 Fridge/freezer (fridge/freezer compartment + dairy section) 65 litres.
12/24 volts DC and 100 — 240 volts AC Approx. 65 watts (@230 V AC, 5 °C interior, 32 °C ambient) 5 V / 500 mA rating Average current draw x running time. Average 0.85 Ah/h (@12 V, 5 °C interior, 32 °C ambient temperature) +10 °C to -22 °C (Although capable of -22 °C due to energy efficient design, minimum setting of -18 °C recommended for normal usage).
CFC-free PU foam, substantial thickness on lid, bottom & sides Fully hermetic WAECO ACV20DC compressor with integrated control electronics, low voltage protection adjustable for leisure and starter battery via electronic system, electronic fuse/automatic reverse pole protection, dynamically ventilated wire tube condenser, aluminium rollbond evaporator Cabinet & lid: Polypropylene, Handle ends: Glass filled nylon, Handle rod: powder coated steel, Hinges: Die cast stainless steel, All screws are stainless steel Body: pale grey/dark grey; lid: dark grey 22.3 kg W661 x H561 x D455 mm (W725 incl. handles) Detachable lid, interior light. CFX VMSO2 electronics with soft start and turbo cooler, USB port, 4 point M6 nutserts in base. DC and AC connection cables, removable wire basket, spring-loaded carrying handles.
3 year full warranty + additional 2 year (parts only) on compressor.
Specification:
(COPY)
Code:
CFX-65
Complete the form below. We'll be back to you soon
Drop in to our shop. We take all major credit cards