A WIDE RANGE OF PORTABLE FRIDGES & PARTS & ACCESSORIES FOR TRUCKS & 4 X 4s
Waeco Chest fridges Waeco CF-80ACDZ Combi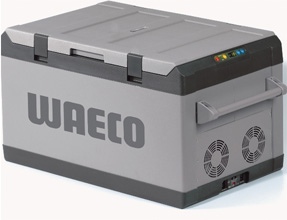 Description:
FREEZER, FRIDGE, DAIRY With the CF-80 you can have all the comforts and convenience of your household refrigerator/freezer in your family's vehicle, or whilst camping or fishing. Separate refrigerator, freezer and dairy compartments make it easy!
Specification:
Dimensions D500 x W790 x H455 mm (W940 including with handles)
Weight 29 kg Capacity 80 Litres. Power 2.9 amps/hr average Voltage 12/24V DC + 240V AC
Temperature Range Cooling capacity up to 50°C below ambient
Warranty 5 years warranty on the compressor motor, 3 years on everything Other – 50mm solid polyurethane foam. 3 temperature sections make it easy and convenient – Standard interior light for a clear view in the dark – Strong handle for lifting and tie-down points.
Code:
CF-80ACDZ Combi
Complete the form below. We'll be back to you soon
Drop in to our shop. We take all major credit cards