A WIDE RANGE OF PORTABLE FRIDGES & PARTS & ACCESSORIES FOR TRUCKS & 4 X 4s
Waeco Chest fridges Waeco CF-25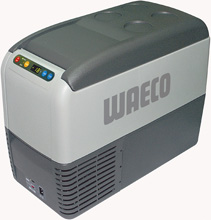 Description:
The WAECO CoolFreeze CF-25 is one of the flyweights of the Compressor range. This unit, due to the compact shape and the sensational small weight is comfortable to handle. It can be changed from one car to another in a hurry and is also ideal for spontaneous trips. Due to the combination of size, insulation and evaporator properties, run times are low, providing energy saving despite powerful performance.
Warranty 5 years warranty on the compressor motor, 3 years on everything 10°C
Specification:
Dimensions D550 x W260 x H425 mm Weight 12 kg Capacity 23 Litres.
Voltage 12 / 24V DC Temperature Range Up to 50°C below ambient. Other With special electronics and valuable extra functions – Emergency function – Quick-chill function –
Three stage battery protection – Memory function – Electronic temperature control (push-up/push-down) from -18°C up to 10 degrees.
Code:
CF-25

Complete the form below. We'll be back to you soon
Drop in to our shop. We take all major credit cards