A WIDE RANGE OF AIR CONDITIONERS & PARTS & ACCESSORIES FOR TRUCKS & 4 X 4s
Lyons Air purifier and cabin Pressuriser Lyons CP160KS Air Purifier & Cabin Pressuriser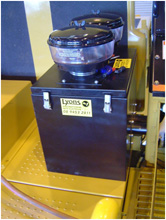 Description:
An Air Purifier & Pressuriser for sites that have Sulfur dioxide fumes however if the "KS" carbon is replaced with other activated Carbon or activated alumina many other biologically hazardous gaseous compounds can be removed from the air. The pressuriser is manufactured for installation on mining and earthmoving equipment cabins to pressurise the cabin and prevent dust entry. The cabins must be adequately seal to maintain pressurisation. The CP160KS pressuriser is a 4 stage pressuriser that will deliver more than 60 litres a second of filtered air.
The first stage is a precleaner that will remove large dust particles.
The second stage is a pleated paper filter, this will remove the smaller dust particles.
The third stage filter is an activated carbon media selected for the absorption of SO2 fumes.
The fourth stage filter is another paper filter that will remove any carbon that dust off from the third stage.
The pressuriser is wired to run with the cabin air conditioner or when the ignition is turned on.
Specification:
Code:
CCP160KS

Complete the form below. We'll be back to you soon
Drop in to our shop. We take all major credit cards