A WIDE RANGE OF PORTABLE FRIDGES & PARTS & ACCESSORIES FOR TRUCKS & 4 X 4s
Engel Chest fridges
Engel MT60FCP "Combi"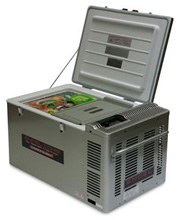 Description:
32 Litre fridge and 25 Litre freezer, 12 and 24 Volt DC, built in 240 volt AC, Portable "Combi" Fridge and Freezer.
ENGEL MT60FP Category: Chests, External dimensions: H 441 W 790 D 490 (mm) Net Weight: 34 Kg. Please note that the external dimensions do not include the Carry Handles if fitted they increase the width by 50 mm each end.
DC Power Consumption: Variable from 0.5 to 4.2 AMPS Maximum Power: Built In 240Volt AC / 12Volt DC / 24Volt DC.
Specification:
Transit Bag to suit part # TBAG560GA. Fridge Slide to suit part number # 560SLIDE Replacement Cords: 12 Volt cord part # JCORD, 240 Volt cord part # KCORD.
Code:
Engel MT60FCP "Combi"

Complete the form below. We'll be back to you soon
Drop in to our shop. We take all major credit cards