OUR BRANDS
Lyons works with some of the world's leading brands in auto electric components and mobile air conditioner units.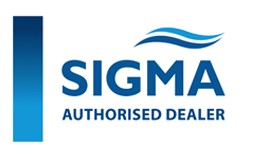 Sigma Air conditioning
Lyons are proud to be Western Australia's largest dealer of Sigma Heavy Duty air conditioning products. Sigma have a large range of heavy duty air conditioners designed to handle the high ambient temperatures that the Western Australian climate can put out. Sigma have also been busy in the last few years with exciting new innovative products such as the Sigma HUF6BX1 Anti-Idling System which Lyons have installed on a number of machines to increase service life and reduce fuel costs, as well as the Hitachi Evaporator aftermarket replacement. The Sigma T-series of air conditioners is recommended for heavy duty applications such as earthmoving mining equipment. Sigma also have a large range in their E-series which is designed for applications such as cranes and light duty vehicles. Sigma is a high quality product and Lyons carry a large range of spare parts and with our technical knowledge we can assist you with your Sigma needs.