25 YEARS CREATING INNOVATIVE SOLUTIONS TO MINING, TRANSPORT AND CONSTRUCTION INDUSTRY AIR CONDITIONING AND AUTO ELECTRICAL PROBLEMS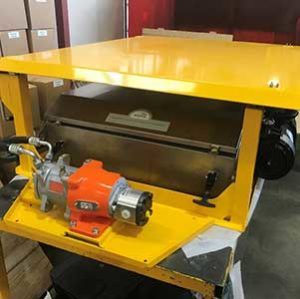 The Customer:
Overseas Customer
The Challenge:
Africa and regions in Australia such as the Pilbara have high ambient temperatures which require heavy duty airconditioning to cool down integral earthmoving machines such as Drill rigs.
The Solution:
Lyons were approached to supply an airconditioning system that could hande the high ambient temperatures which are common in the African continent (similar to our Pilbara temperatures) For this application Lyons chose the Sigma TDR7 Rooftop Package, which has been designed to work in ambient temperatures of 46 celcius. The Sigma TDR7 Rooftop package is known for it's strength and reliability, with service parts readily available at Lyons. This project required tropical roofs to be manufactured by our sheetmetal fabrication department to assist in removing as much ambient heat off the airconditioner as possible. This package was also designed to run the Sigma HDC200 hydraulic compressor, to remove the long hose runs that come with engine driven compressors. The Sigma TDR7 Rooftop package also comes with the EP94X Sigma pressuriser to provide clean air over the coils. This unit was shipped complete to Africa to be installed in-situ once on site.
The Result:
The end user is in the process of installing these units to their machine fleet.
Complete the form below. We'll be back to you soon
Drop in to our shop. We take all major credit cards