25 YEARS CREATING INNOVATIVE SOLUTIONS TO MINING, TRANSPORT AND CONSTRUCTION INDUSTRY AIR CONDITIONING AND AUTO ELECTRICAL PROBLEMS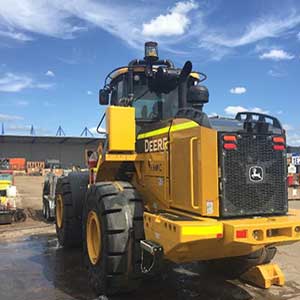 The Customer:
Hitachi/EMRC
The Challenge:
The design requirement was for a clean air work environment within a John Deere JD644 loader that wouldn't impede the vision of the operator. The JD644 Loader was to work in a dusty environment which required carbon filtering of the air due to the potential of hazardous vapour being encountered.
The Solution:
Lyons provided the CP-125KS carbon filter and pressuriser unit. This was due to the fact that the CP125-KS utilises a PuraGrid carbon filter to eliminate hazardous vapours and prevent airborne particulates from entering the cabin. It also has the added benefit of a carbon bed that is pre-filtered via a pressuriser that extends the service life of the unit.
Due to the design requirement of unimpeded vision for the loader driver, Lyons resorted to custom modifications to the carbon filter unit to elevate it up and away from the driver's field of vision.
The Result:
Operators improved health and improved working conditions / efficiency of pressurisation unit.
Complete the form below. We'll be back to you soon
Drop in to our shop. We take all major credit cards