25 YEARS CREATING INNOVATIVE SOLUTIONS TO MINING, TRANSPORT AND CONSTRUCTION INDUSTRY AIR CONDITIONING AND AUTO ELECTRICAL PROBLEMS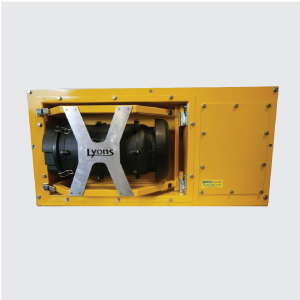 The Customer:
Komatsu – RTIO
The Challenge:
Diesel fumes where entering the cabin with the existing pressuriser location which caused issues for the operators. Komatsu approached Lyons to move the pressuriser location from the back of the cabin to the panelling underneath the cabin.
The Solution:
This X-series pressuriser unit for Komatsu 730E/830E/930E Komatsu trucks was designed to alleviate the issues that Komatsu were having with the pressuriser unit being installed behind the cabin. The X-series bracket fits in the front of the cabin of the Komatsu Dump Truck fleet and swings out for ease of filter change. This unit has been designed by our sheetmetal fabrication team and incorporates the service panel on the side to ensure that serviceability behind this panel is not lost. This unit is a plug and play option and can be fitted either by Lyons or can be supplied as a basic kit form.
The Result:
Diesel fumes were no longer an issue inside the cabin and their were no trip hazards due to the new concealed location.
Complete the form below. We'll be back to you soon
Drop in to our shop. We take all major credit cards