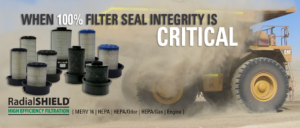 Lyons has teamed up with Sy-Klone to be able to bring you a leading brand in cabin and engine filtration, pre-cleaning systems and pressurisers used on HVAC units and engines throughout the world. In Western Australia it is a preferred system for heavy equipment, mining, agriculture, fire and rescue, military, construction, demolition, and forestry.
Sy-Klone is considered pioneers in the industry of air pre-cleaning and adaptive filtration, with innovation in technology that has made it a preferred option across many industries throughout Australia and the world.
What better team than Lyons the leaders in air-conditioning and filtration joining forces with Sy-Klone to give you a holistic solution to protect your staff and assets to keep them working longer and safer for you.
The main benefits of Sy-Klone technology are:
Self-cleaning and maintenance free filtration system*
Minimised filter costs
Extended filter life of up to double that of others
High grade filtration including HEPA (XLR removes 99.99% of ISO fine test dust)
Uncomplicated installation method by a qualified installer (Lyons)
Filtration protection options for personnel, engine and HVAC system
| | |
| --- | --- |
| Part Number | Product Description |
| 9001 | 4-inch Sy-Klone Series 9000 Precleaner for 100 to 275 CFM (2.83 to 7.79 m3/min) |
| 9002 | 6-inch Sy-Klone Series 9000 Precleaner for 500 to 650 CFM (14.16 to 18.41 m3/min) |
| 9003 | 8-inch Sy-Klone Series 9000 Precleaner for 800 to 1150 CFM (22.65 to 32.56 m3/min) |
| 9004 | 8-inch Sy-Klone Series 9000 Precleaner for 1150 to 1400 CFM (32.56 to 39.64 m3/min) |
| 9005 | 5-inch Sy-Klone Series 9000 Precleaner for 350 to 500 CFM (9.91 to 14.16 m3/min) |
| 9000R | 3-inch Sy-Klone Series 9000 Precleaner for 50 to 120 CFM (1.42 to 3.40 m3/min) |
| 9001R | 4-inch Sy-Klone Series 9000 Precleaner for 275 to 350 CFM (7.79 to 9.91 m3/min) |
| 9002R | 6-inch Sy-Klone Series 9000 Precleaner for 650 to 800 CFM (18.41 to 22.65 m3/min) |
| FEFF004 | LEGACY – RESPA-SD/SD2 or SDX/SDX2 Filter – HEPA/H13 |
| FEFF108 | RadialSHIELD: MERV 16/F9 Ejective Filter for RESPA-CF/CF2 – Standard Length (Replaces FEFF008) |
| FEFF108 | RadialSHIELD: MERV 16/F9 Ejective Filter for RESPA-CF/CF2 – Standard Length (Replaces FEFF008) |
| FEFF110 | RadialSHIELD: HEPA/H13 Filter for RESPA-CFX/FF/FFX/FFX2 – Standard Length (Replaces FEFF010) |
| FEFF111 | RadialSHIELD: MERV 16/F9 Filter for RESPA-CFX/FF/FFX/FFX2 – Standard Length (Replaces FEFF011) |
| FEFF118 | RadialSHIELD: HEPA/H13 Ejective Filter for RESPA-CF/CF2 – Standard Length (Replaces FEFF018) |
| FFX2505 | RESPA-FFX2 Recirculation Filtration System-Base Mount-3 inch Elbow Outlet-Closed MERV 16/F9 Filter |
| IN0077 | SSG 8-IN INSTALL KIT |
| RCF2038 | RESPA-CF2 Fresh Air Precleaner – 24V Brushed Compact Motor – 3-inch Outlet – STD Length – MERV 16/F9 Filter |
| RE0004-L-SYK | LEGACY: RESPA-SD/SDX Service Part – Replacement Lid Kit |
| RE0042-24F-02-SYK-005 | RESPA SD G2 |
| REV0011 | RESPA CF Vortex HyperFlow REVOLUTION in a BOX – 12V Brushed Motor – MERV 16/F9 Filter – No Pressure Monitor |
| REV0012 | RESPA CF Vortex HyperFlow REVOLUTION in a BOX – 24V Brushed Motor – MERV 16/F9 Filter – No Pressure Monitor |
| REV0012 | RESPA CF Vortex HyperFlow REVOLUTION in a BOX – 24V Brushed Motor – MERV 16/F9 Filter – No Pressure Monitor |
| REV0043 | RESPA CF Vortex HyperFlow REVOLUTION in a BOX – 24V Brushless Motor – MERV 16/F9 Filter – No Pressure Monitor |
| REVA-002 | LEGACY – RESPA-CF/CFX/FF/FFX Service Part: All INTake adaptation |
| REVA-008 | LEGACY – RESPA-CF/CFX Service Part: 24V Brushed Motor and Motor Housing |
| REVA-008 | LEGACY – RESPA-CF/CFX Service Part: 24V Brushed Motor and Motor Housing |
| REVA-012 | LEGACY – RESPA-CF/CFX/FF/FFX Service Part – Fastener & Gasket Replacement Kit |
| REVA-018 | LEGACY – RESPA CF/CFX 24V Brushless Motor Upgrade Kit |
| REVA-026-BP5 | Bulk Pack (5) RESPA Pressure Monitors |
| RIC0028 | XLR Powered Precleaner – 24V Brushed Compact Motor – 4-inch Outlet – EXT Length – Engine Filter |
Sy-Klone Pressurisers and Filter Codes
Filters
Code
Model
Type
 
FEFF005
SD
M16
FEFF004
SD
M17
FEFF108
CF
M16
FEFF111
CFX
M16
FEFF118
CF
H13
FEFF110
CFX
H13
Pressuriser Units
Code
Model
Voltage
Type
Motor
SD
12V
M16
Brushed
REV0012
CF
24V
M16
Brushed
RE0042-24F-02-SYK-005
SD
24V
M16
Brushed
REV0004
CFX
24V
M16
Brushed
REV0011
CF
12V
M16
Brushed
REV0021
CF
24V
H13
Brushed
REV0043
CFX
24V
M16
Brushed
CF
12v
H13
Brushed
CFX
24V
H13
Brushed
REV0043
CF
24V
H13
Brushless
REV0041
CFX
24v
H13
Brushless
9000R
3′ Sy-Klone Pre-cleaner
KT-CABPRES-EL1-ENG
Monitor 12v – 24v
All Sy-Klone products are available from Lyons air-conditioning.
For more information call Lyons on (08) 9249 7777
Complete the form below. We'll be back to you soon