A WIDE RANGE OF AIR CONDITIONERS & PARTS & ACCESSORIES FOR TRUCKS & 4 X 4s
Sigma TDR7 Rooftop Package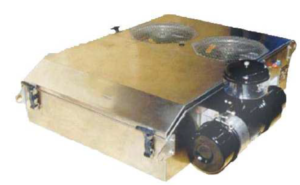 Description:
Sigma TDR7 is a 7KW-evaporator and condenser rooftop package system suitable for large mining earthmoving equipment such as dozers, excavators, graders, front-end loaders.
The system is easily installed onto the roof of the cabin, utilizing a heavy-duty neoprene rubber to provide a reliable and water proof sealing interface with the cabin surface.
All access to refrigeration components are via the top access covers.
Sandvik DR460 / DR540 Drill rigs utilise the TDR7BX2 for their airconditioning system.
TDR7BX1
TDR7BX2 – O-ring connections
Specification:
Access to return air filter and control switches is from within the cabin.
Code:
TDR7

Complete the form below. We'll be back to you soon
Drop in to our shop. We take all major credit cards