A WIDE RANGE OF AIR CONDITIONERS & PARTS & ACCESSORIES FOR TRUCKS & 4 X 4s
Sigma TCF6 Evaporator for Rooftop Mounting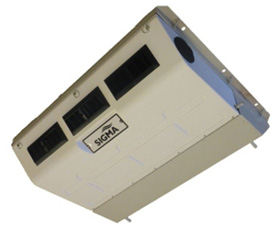 Description:
This internal evaporator provides a solution for the mounting of an evaporator when external roof or wall mounting another of our T Series units is not an option.
It's low profile and size allows for the mounting of a unit inside the cabin, without causing interference to the operator.
The unit is also optioned to allow it to be wall mounted inside a cabin if required.
Specification:
The standard TFC6 unit is simply fitted with a wall mount drain tray option kit which allows for condensate collection in it's new configuration.
Code:
TFC6

Complete the form below. We'll be back to you soon
Drop in to our shop. We take all major credit cards